Review of firewater main provisions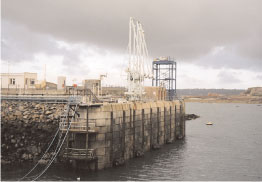 We were appointed in the spring of 2006 as a Facilitator by Jersey Harbours to review existing proposals to renew and replace the existing fire main seawater submersible pumps at La Collette harbour in St Helier. We were tasked with "zero-basing" the existing proposals, establishing the provenance of the criteria previously used and making recommendations with an objective of cost savings on a project cost of some £4 million, without compromising safety standards.
Our study identified various concerns in the previous study, recommendation and evaluation processes. Our conclusions were achieved after extensive consultative interaction with States of Jersey departments, the Fuel Consortium and the Gas Company on Jersey.
Our role as Facilitator involved the preparation of the Expression of Interest papers, short-listing recommended specialist fire protection organisations and controlling the selection process from initial approach through board presentations in Jersey to final appointment of a preferred partner organisation in late November 2006.
We maintained a liaison role ensuring that we maximised the effort and expertise of the fire protection engineers and managed the logistical processes on Jersey, interfacing with States departments and the local Fire & Rescue Services.